Aspurian Enhances HR/People Teams
You specialise in getting the best from your team resources, not battling IT. Aspurian can support the operational delivery of staff onboarding, leavers, and security management so you can focus on what you do best.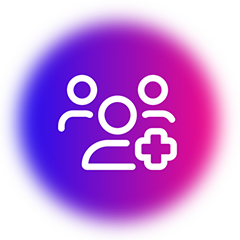 Focus On People. Less on operational delivery.
We want you to get the best out of your team giving you the freedom to support your employees and develop your team. Aspurian can ensure your employees are fully provisioned on day one with the technology and business tools they need.  We can assist you in everything from device provisioning through security access management.
On/offboarding made simple
No more confusion or wasted time. You can enter your own on and offboarding requests quickly and easily by using your dedicated service portal. Our platform is designed to ensure a consistent approach to requests across your organisation.  Selections are customisable to meet the specific needs of your business.  Once you have made your request you can have confidence that our team will handle the rest.
Device procurement, provisioning, removal and disposal
Applications, authorised software, file management, & email access
Security Access management
Procurement & Provisioning Managed
Aspurian will ensure that each new employee has access to the business systems you have requested. We can provision them with the devices they need wherever they are based.  If you have a team member leaving we can ensure that devices are collected and business data wiped to ensure data security whilst making it ready for the next recipient.  This full service provisioning service is available to all support customers and we work with key partners including Dell, HP and Apple.
Ordering devices for your including accessories
Provisioning or de-provisioning devices whilst applying your company standards
Delivery of devices to local, remote and WFH employees
Managing requests for devices that come from your team
Centralized Management & Visibility
Access all your service requests in one simple platform. Want to view onboarding details for the last 3 months?  Want to check on an offboarding request to see the latest status?  With our built in permission profiles your managers can edit, administer and view on/offboarding information for your business.
Service Request status including on/offboarding
An audited record of all on/offboarding requests made by your management team
Access to email aliases, files, and application permissions tailored to the needs of individual departments